Today, Google's Search Engine Results Page (SERP) has more tools and information than ever. Some of these features push traditional blue-link results farther down the page and lower organic result CTR. This is why it's important to pay close attention to the evolving SERP methods since they affect how websites rank on the results page.
For example, a good knowledge of SERP features can get you the top space of the featured snippet and ultimately increase your CTR. But finding the perfect keywords to target or creating a marketing strategy that can help you rank well on Google's SERP can be tricky without any prior knowledge of Google's SERP features.
This article explores the list of SERP features so that you can implement them to achieve the best possible results for your websites.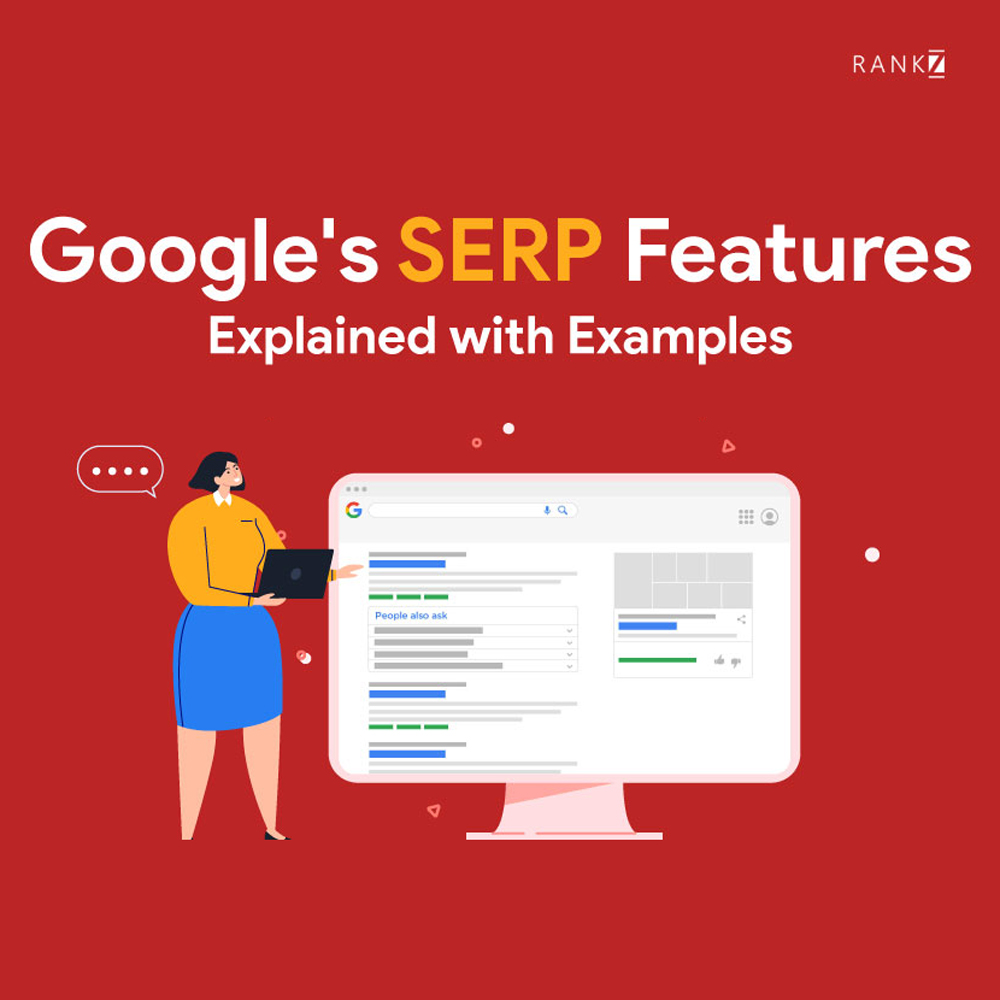 What Is SERP?
SERP is an abbreviation for "Search Engine Results Page," and it's a page that displays the results for a given search query. A SERP is what people see when they ask a question or search for a product or information on search engines.
To improve the user experience, modern SERPs now include more features than just the previous organic search results (or "blue links"). These features include featured snippets, paid Google ads, videos, and others.
SERP features act as a filter, so only the most relevant answers and websites appear on the results page. This helps to keep things simple and user-friendly while giving websites better chances to appear in searches.
What Is Google Ads and How Does it Work?
Google Ads is an online advertising platform for businesses to promote their products and services to potential customers. These ads are displayed in the form of text links or video links, product listings, or services, and they appear on search engines, websites, apps, desktops, and mobile devices.
A Google ad is a great way to get your business noticed. It's easy to set up and manage and provides a high-yield way of reaching potential customers, especially if you're looking to build your email list.
Ads appear on a targeted user's screen with a link that leads them to your website. If users click on it, your chances of having a conversion increase. You only have to pay when a user clicks on your ad.
The Most Important SERP Features
What are SERP features? Google's SERP features are one of many factors influencing which content is displayed in search results. So, it has a significant impact on your SEO strategy. There are many myths and misconceptions about SEO. In fact, some of the most common SEO myths can actually hurt your website's ranking and visibility. Google's SERP features list appears on the main layout of the first page of search results, highlighting relevant and important content.
How Google displays SERP features depends on various factors, including content type, relevance, query, and more.
For example, paid ads typically appear at the top of the SERP, and related searches appear at the bottom of the SERP.
Let's look at the SERP features overview and explore the complete list of SERP features.
1. Featured Snippet
Featured snippets are highlighted extracts displayed at the top of Google's SERP. They provide users with concise answers to their queries. The Google algorithm detects the intent of the search query and the type of content to be featured.
Featured Snippets are presented in various display formats. Among these are FAQs, how-tos, "What is," "Who is," and so on. The result may be a short piece of content, a table, images, or videos that gives the user a quick answer to the query.
2. Paid Ads
Based on quality scores and bidding, paid ads often appear above organic SERPs. The green "Ad" label indicates a paid ad. Because users see these results first, paid ads often generate higher click-through and conversion rates.
Google's paid ads operate on a cost per click, i.e., you only pay when someone clicks on a link in an ad. However, for CPC bidding campaigns, you must set a maximum cost-per-click bid, i.e., the amount you pay for each click on your ad. Your CPC, alongside your quality score, affects the rank of your website against other paid ads.
3. Video Carousel
A video carousel is a collection of videos displayed horizontally or vertically. Depending on the search type, this carousel may appear anywhere on the SERP. The collection provides a video thumbnail, a title, the author, and the host site.
The video carousel is a great way to showcase your products or services through video content. Users can choose from multiple videos while scrolling through their newsfeeds or searching online for things they want to learn or do easily!
4. Google Sitelinks
Google sitelinks are displayed as additional links from the same website under a listing and help users easily find the information they need.
For example, if you search for "MIT," Google displays a listing for the MIT homepage and some hyperlinks below the listing, like "about us," "schools and departments," "admissions and aid," etc. When you click on one of the links, it takes you directly to that page without visiting the homepage.
Site owners do not have to add sitelinks as Google's system organizes the main hyperlinks in the domain into the SERP.
5. People Also Ask
People Also Ask (PAA) gives users additional questions and short answers related to the initial search query on the SERP. The PPA area has a highlighted snippet for each query, and it's a short list of related questions people have asked about the topic.
PPA offers multiple perspectives from different users on particular topics and offers many of their questions without doing multiple searches or visiting multiple sites.
6. Local Pack
The local pack is a section of the SERP that shows the top-ranked local listing information about a specific business in the area users' area. It includes a map of business sites and listings for three businesses appropriate to a certain search.
A local pack can include maps, reviews, contact information, etc. For instance, if you're searching for a barber shop near you, you'll see a map showing the nearest barbershop location and contact information.
7. Knowledge panels
Knowledge panels are information boxes that display on SERPs when you search for knowledge graph categories (people, organizations, places, and objects). They give users a short glimpse of online information on a topic or content.
Knowledge panel results are from human-edited data or agreements with partners. So, you may be unable to optimize your website to appear on a knowledge panel.
8. Image Packs
An image pack is a collection of images displayed on Google's SERP. Google interprets relevant keywords where users want to see a collection of images and displays them.
Queries that directly specify images or require relevant imagery, such as animals, usually return an Image Pack. It may be a horizontal carousel at the top of the SERP or a panel of photos within the SERP.
9. Top Stories
Google's SERP has a "top stories" feature, where a list of cards displays trending or breaking news relevant to a search query. It shows thumbnails linked to articles with a time or date from reliable news sources. It is purely organic driven, and it's also called a "news box."
10. Related Search
Related searches are queries similar to the terms users enter into a search engine. It's usually located at the bottom of the SERP.
They contain synonyms, variations, or semantically related terms to the main keywords of the topic on the SERPs. In some cases, related searches may be long-tail keyword variations.
11. Shopping Ads
Shopping ads display a photo of your product, title, price, shop name, and other information. These ads give visitors a concise idea of the product you're offering before they click the ad, providing you with more qualified leads.
12. Job Listings
Google's job listing on SERP offers three job ads in response to search queries that are either indirectly or directly seeking job vacancies. The job postings in Google for Jobs come from various sources, including popular job ad websites like Glassdoor.
How to Optimize Content for Google's Featured Snippets
Google's featured snippets are the most prominent search results for certain queries. They appear in the top spot of the SERP and can be optimized to help your brand stand out from competitors and improve organic traffic.
Some key ways to optimize your content for Google featured snippets include:
1. Competitive analysis
Find out what ranked competitors' websites are doing and compare them with yours. With this, you'll know what makes their content stand out and how you can improve on yours.
2. Analyze and use the keywords from the contents of featured snippets.
Analyze the keywords in existing snippets on SERPs and use them to create new and better content that ranks. You can also use tools like Google Analytics to identify the top keywords for a topic.
3. Identify the searcher's intent.
Find out what a searcher is looking for. It could be things like "how do I make cakes?" which is different from "where can I get cakes?" It will help you optimize your content accordingly to answer those questions effectively.
4. Use modern SEO strategies.
Google has changed the way it ranks pages in its search engine. To get featured snippets, you need to provide relevant content to searchers, using the right keywords and outlines to satisfy Google's algorithm. Also, include other SEO strategies that increase your domain authority and help rank well.
5. Add relevant graphics and images to your content.
Graphics are essential for getting a featured snippet, particularly for paragraph and listicle types. However, avoid using generic images like stock images, and use real-life images or custom-made graphics.
Desktop vs. Mobile Search Results
Regarding SEO, desktop vs. mobile search results differ. So, it would help if you did an independent SEO for mobile devices and desktop computers. Here you can read more information about different types of SEO.
While it is true that online and mobile SEO follow the same basic concepts in how to get SERP features, you should not ignore certain variations. Some reasons why mobile results may differ from desktop rankings include the following:
Location-based searches favor mobile users, while more in-depth research and less urgent queries favor computers.
Desktop computers have better processors and more reliable connection speeds to the internet, meaning they are more likely to load websites faster than mobile devices.
Users enjoy a better experience on the mobile page than they do on rivals' desktops.
The mobile site performs better than competitors in organic search CTR (click-through rate).
The readability and general user experience on mobile are far superior to desktop.
Conclusion
Google's SERP features have changed the SEO world for a better user experience. But, from a business owner's perspective, it could be tricky if you are not informed about these changes. This article has given an overview of the important list of SERP features and how you can get the featured snippet. The best practice is to have your business' main website focus on optimizing your sites and get it ranked on any or all of SERP features.