It is 2023 and backlinks remain one of the primary indicators of a website's relevance and trustworthiness. In the beginning, it was mainly about their sheer quantity, but nowadays, quality and relevance have taken precedence. The fact remains that ranking in Google without backlinks is nearly impossible, unless you are operating in an undiscovered niche or leveraging the power of a high-authority domain, which is why professional SEO link-building companies exist.
However, not all SEO link-building services are created equal, so it is wise to do your due diligence before working with any of them. The last thing you want is to trust a no-name provider that could ruin your website's ranking for your chosen keywords by bombarding it with numerous toxic low-quality backlinks. You must avoid this bad practice at all costs
We've vetted the best SEO link-building services
To reduce the amount of time you'd have to spend researching on your own, we've scoured the web for guest posting and SEO link-building agencies and ranked them. The list includes the most popular ones you'll see around today.
The following deserve the honor of ranking in the top 10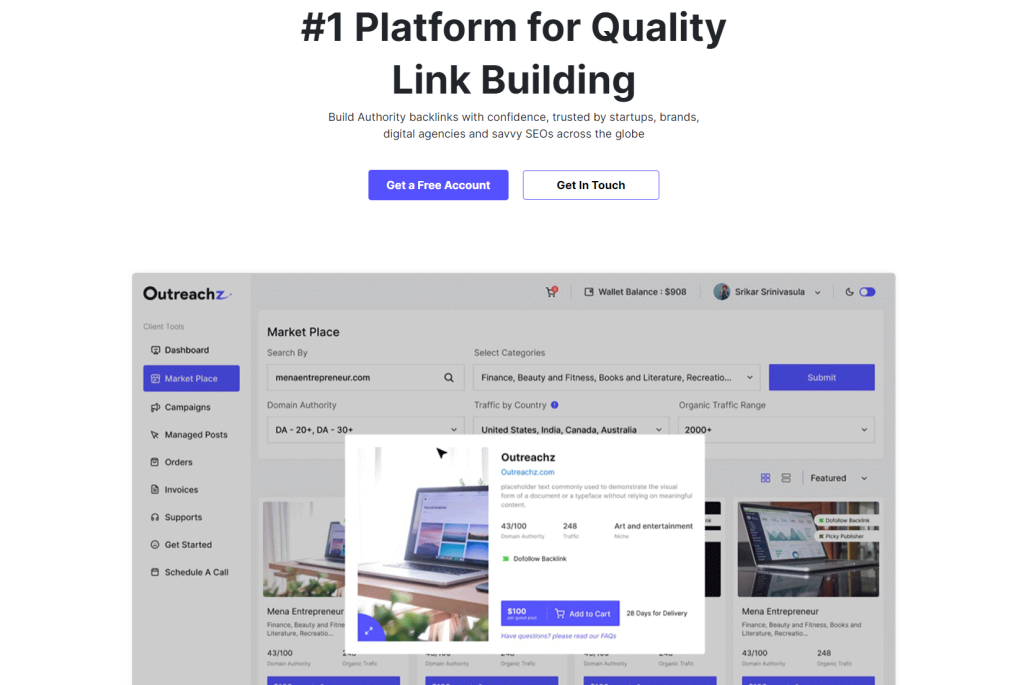 With their unique approach to blogger outreach, OutreachZ easily ranks among the top link building services today. Thanks to their massive and ever-growing marketplace, you are free to take your link building strategy into your own hands by choosing to have your links published only on the blogs that are the most relevant authority in your niche. Their platform is a massive timesaver that acts as the connecting point between backlink seekers and bloggers who are willing to link back to their websites in exchange for great content. Transparency is their middle name; every blog has all the industry-relevant metrics displayed next to it in a user-friendly and intuitive interface, including DA and DR.

If you prefer having an experienced expert to guide you on your guest posting journey, RankZ is the platform to choose. Their devoted team of SEO professionals will examine your case and advise you on the best steps to take to secure the top search engine rankings. This managed SEO service provider is known for having a personalized approach based on each customer's individual needs. The benefit of working with them is that you will also get an in-depth SEO analysis of your website to help you figure out where your website is most in need of SEO improvements. To keep things transparent and organized, every backlink they'll build for you will be listed in a detailed report containing the exact URL and the most important industry metrics such as DA and Organic Traffic.
3. uSERP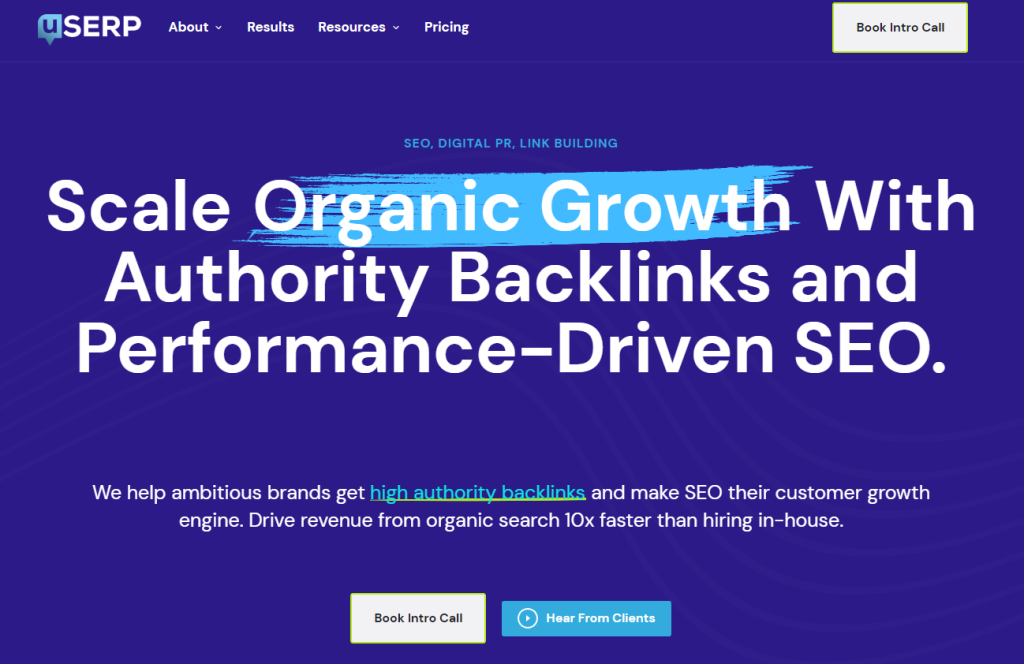 This link-building services provider is a household name in the SEO industry, earning the trust of some of the most highly-trafficked websites in the world such as Monday, Robinhood, Freshworks, and others. Utilizing a quality-over-quantity approach to link building, uSERP will gradually build backlinks to your website to ensure a natural boost in search engine rankings. They don't mind facing a challenge, and they will get your website to the top of Google even in the most highly competitive markets. Whether it's through blogger outreach or other methods, they have the expertise to deliver results
4. Screaming Frog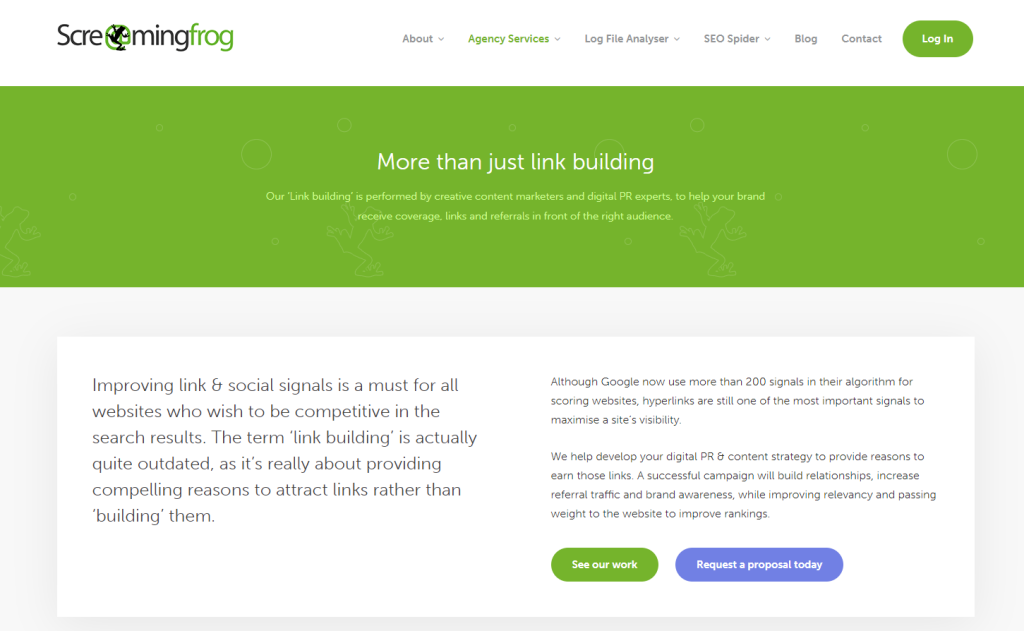 Screaming Frog houses some of the industry's most talented marketers, PR experts, and SEO specialists, making it one of the most diverse teams with the right skills to tackle any challenge you throw their way. They're about more than just rankings – the goal is to make your brand a recognizable name in your industry. They believe your website will truly start getting organic backlinks and mentions once you enter that territory (notice their focus lies on "attracting" rather than "building" backlinks). Either way, their overall strategy incorporates initiating mutually-beneficial relationships with bloggers and influencers to propel your way to the top. They also offer supportive services such as social media management and content writing.
5. Digital Current
This is one of those link building agencies that never rest on their laurels. Instead, they strive to keep on top of the latest industry trends by analyzing the pattern of change in the algorithms – after all, this is a very "do or die" industry. Utilizing a systematic approach to link-building using white-hat SEO tactics exclusively, they have all the tools and know-how to propel your website to the top of the search engine rankings. To do so, they rely on more than just written content alone – think of stunning infographics, partnering with influencers, blogger outreach, and more.
6. Whitespark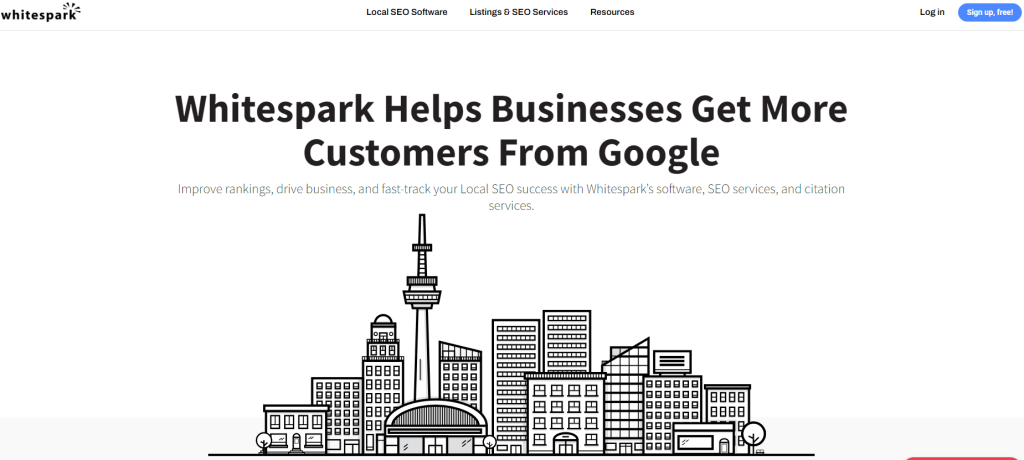 Whitespark is an SEO provider with an edge. Best known for their citation-building approach, they will help you drive more traffic and sales using all the tools and methods available in a creative way. If it makes sense in your industry, they will recommend tapping into the potential of Google My Business, for which they've also developed their own management service. Their other paid tools and services include a reputation builder, a rank tracker, and a local citation finder. Ultimately, their website promises to help you get more customers from Google, which is exactly what they will help you achieve.
7. LinksThatRank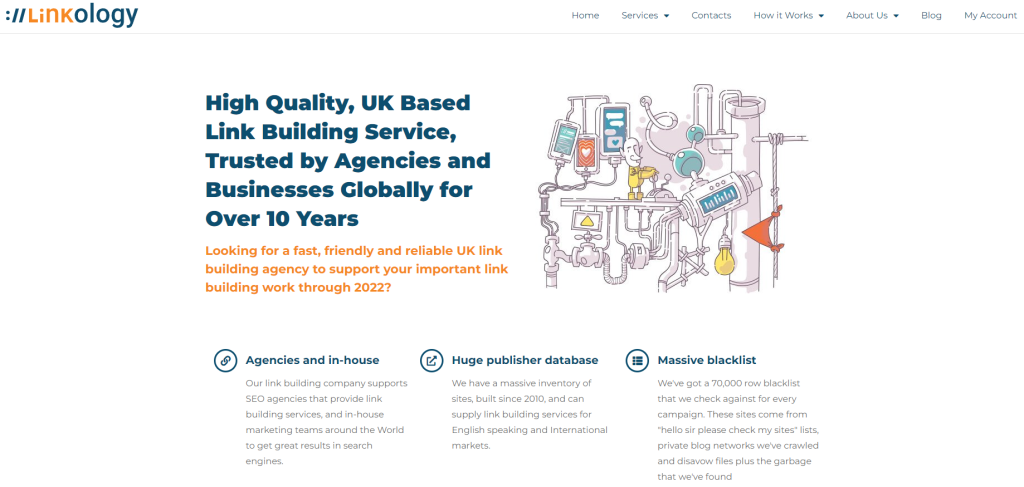 As the name implies, LinksThatRank is one of the best link building services that builds every single link manually without resorting to automation or spammy tactics. Unless the link meets strict quality guidelines covering everything from relevance, authority, and diversity, it will not be built. One of the criteria they use is strictly sticking to building links from websites that are already naturally receiving a lot of traffic, so you won't find them using static cookie-cutter pages. This is why sourcing backlinks from them won't be the cheapest endeavor, but in the end, you'll find it well worth the money spent.
8. FatJoe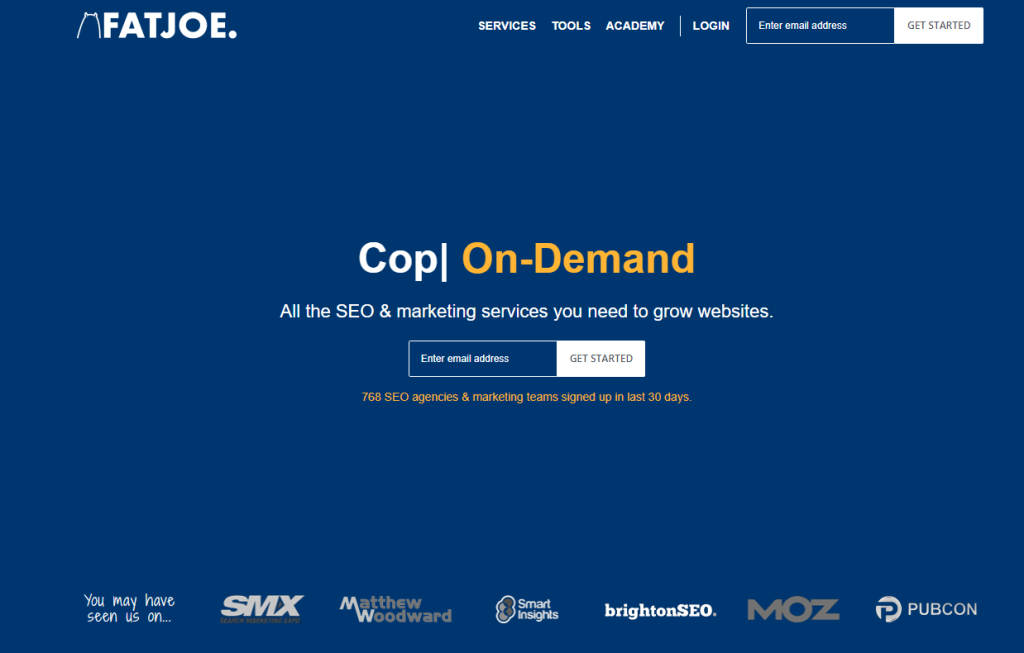 FatJoe is one of those link building services that don't want to give you any hassle. Right off the cuff, you're presented with an intuitive dashboard from which you can place and track your orders. Depending on your needs, there are plenty of SEO services to choose from, including blogger outreach. In essence, the agency will do all the heavy lifting for you and get in touch with relevant bloggers in your niche without you having to lift a finger. They also advise you to incorporate press releases into your SEO strategy to keep your backlink profile diversified.
9. Linkology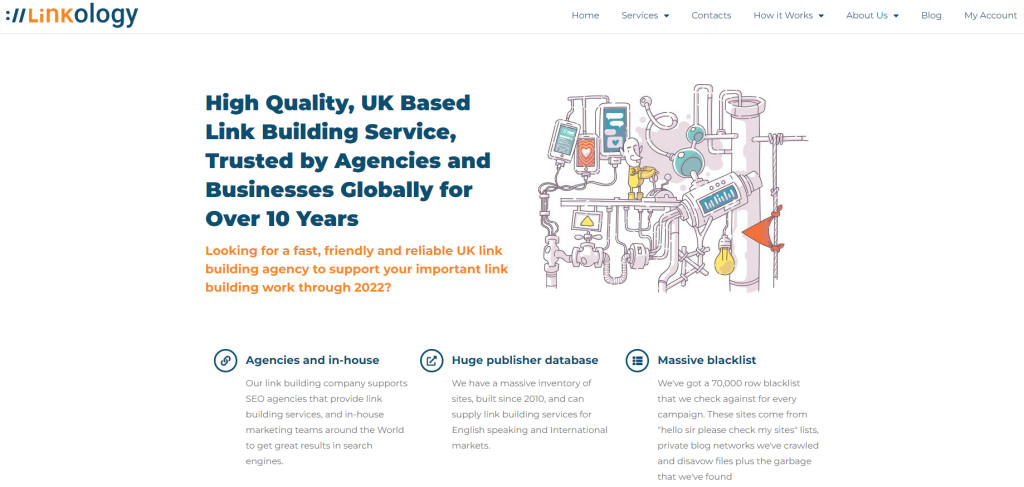 When doing SEO, one of the hardest things you'll find yourself doing is identifying the best backlinking opportunities in your niche. Linkology's unique contribution is that they are willing to help you and make it easier by finding the top authority websites in your niche that are open to linking back to you. Once they've identified them, they will proceed to write top-quality content with backlinks that direct traffic to your website and get you noticed by the search engines. With their quality-driven approach, working with link building companies like these is a surefire way to get the much sought-after credibility in your market or niche.
10. Siege Media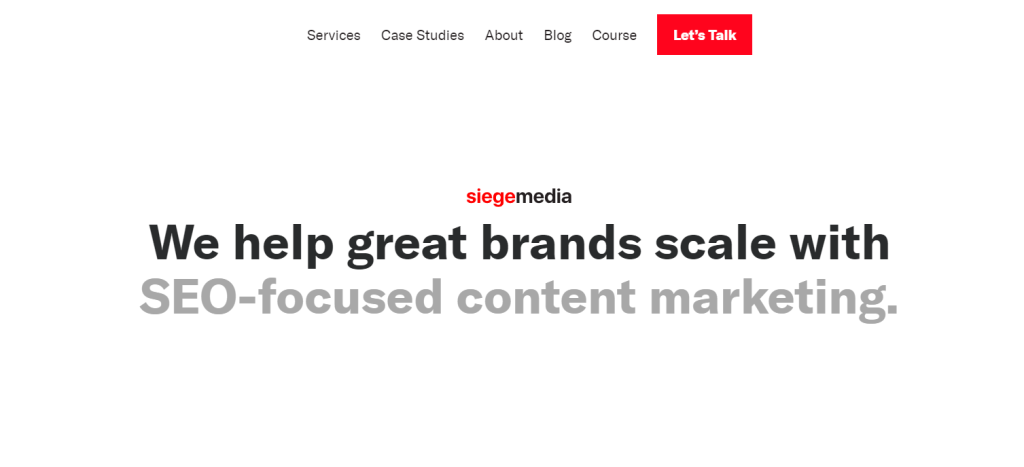 Siege Media is an SEO agency that perfected its craft of producing organic backlinks through high-value content distribution. We're talking about the kind of content the world's top brands wouldn't think twice about publishing on their main website and this particular agency has indeed worked with the best of them: AirBNB, Zillow, TripAdvisor, and many others. Focusing on quality rather than quantity, they won't tell you the exact number of backlinks to expect each month, but they will give you a ballpark figure.
Do backlinks still play an important role in SEO?
Although top-level Google executives have been preaching to always think in terms of giving value to the reader and answering their questions first and foremost, in practice, this is just one element of a wholesome SEO strategy your company needs to get noticed. The other part, of course, is backlinks and both of these strategies are essential to succeed in the competitive SEO landscape of today.
In other words, Google and other search engines see backlinks as an indicator of trust, a vote of confidence by other webmasters if you will. Of course, there are various types of backlinks and not all of them are created equal. For instance, do-follow backlinks are far more valuable than no-follow backlinks, but you should also make sure to build them from thematically relevant sources.
To keep your backlinking portfolio looking natural, you should avoid the telltale signs of search engine manipulation such as using nothing but the exact keyword phrase in the anchor. When building backlinks, as long as you focus on quality and relevance, you should see a gradual boost in your search engine rankings.
What are link building services and why are they important?
As the name implies, link building services help you secure valuable and thematically-relevant backlinks to your website. Depending on how you execute it, this can be a completely white-hat SEO strategy to help propel your website to the top of the search engine rankings for your targeted search phrases and keywords.
Ever since the beginning, Google has viewed backlinks as one of the most important signals of authority. The best link building companies can help develop a custom-tailored link building plan for you that's unique to your website, where it currently ranks in the search engines, and what niche it operates in. This may involve guest posting, blogger outreach, distributing press releases, and similar.
By working with one of these agencies, your search engine rankings will slowly but surely grow, thus boosting your website's traffic in an organic way. In turn, the sales you'll be getting through the digital marketing channel will also increase.
The benefits of working with link building companies
There are numerous benefits to integrating link building services into your online marketing strategy, including but not limited to:
Higher search engine rankings. Old-school digital marketers used to joke that the best place to hide a dead body is on the second page of Google. So either you're on the first page or buried underneath the weight of other listings, both organic and paid.
More traffic to your website. Once you start conquering the search engines you'll be getting more clicks, which translates to more visits and more sales.
Time savings. It's much more convenient to let an expert handle this part of your business so you can focus on what you excel at and devote yourself to making it a success.
Avoiding penalties. The backlinks built to your website must be of high relevance and come from high authority domains. If, however, they are built from dubious sources in large volumes over a short period of time, you are likely to get penalized by the search engine algorithms. Working with trustworthy link building services helps you avoid the problem.
Establish your brand as an authority in your niche. With higher visibility comes making your voice heard by the industry. With a larger share of the market, you will be recognized as an expert in your field.
Measurable results. Compared to traditional forms of advertising, SEO yields consistent and measurable results. You can track if things are working and scale your link building campaigns on demand.
How much do link building services usually go for?
The price link building companies will charge you mostly depends on the quality and volume of backlinks sought. This can be anywhere between $150 and $1000. If the link is obtained through guest posting, someone will need to write the article, which can add to the initial cost. If you're willing to do this part yourself, the only cost is your time, otherwise hiring a writer (or letting the agency do it) will be an additional expense. Keep in mind that certain industries are generally more expensive than others when it comes to link acquisition. Examples include real estate, loans, casino, and finance.
Best link building practices
Since you won't be doing any link building yourself, is it still important to know the best link building practices? The answer is yes, you should have a solid understanding of how link building affects SEO and how to discern high-quality backlinks from the toxic ones. The reason being is that knowing this will also help you pick the kind of link building agencies that are in line with the best industry and SEO practices.
In general, SEOs agree that high quality backlinks must be:
Relevant. If you're in the health industry, for example, the backlinks you build to your website should be from thematically relevant sources (or as close to it as possible). There's a logical reason for this. Let's say you're selling diet supplements for this example. Getting a positive review and a link back to your website from Dr. Oz would be a great thing. Getting one from a puppy care product website? Well, unless the diet supplements in question are also suitable for dogs, the backlink wouldn't be as relevant.
Natural. Google wants to see that a webmaster has awarded you the backlink because they believe your website brings something valuable to the table. Otherwise known as 'editorial backlinks', these are some of the most powerful ones you can get and are also considered as some of the safest. Of course, you must never overdo it as a large volume of backlinks in a short amount of time has 'link manipulation' written all over it.
Reputable. For obvious reasons, getting a backlink from BBC will do greater things for your online credibility than getting one from your neighbor's hobbyist blog. In turn, some of that reputation will spill over to your website. In the past, general high authority links used to be the holy grail of link building, but nowadays, it's more about the authority that's combined with the link coming from a thematically relevant source.
The dangers of low-quality link building
Gone are the days when every backlink had a favorable effect on your search engine rankings. In fact, there are certain types of low quality backlinks that can do more harm than good. If Google identifies you as someone who engages in spammy link building practices, you're setting yourself up to be penalized which comes with a substantial drop in your search engine rankings. Although situations like these are salvageable to some degree (for instance, you can opt to disavow the problematic links), it's best to avoid this scenario altogether.
At any rate, you should steer clear of the following low quality and toxic backlink sources at all costs:
Link farms. These typically host all sorts of stolen, duplicate, or low-quality content or in some cases, little at all – they're solely designed for blasting backlinks to other websites in exchange for payment. These are extremely toxic and are likely to have a negative impact on your search engine rankings. Often, novice link builders fall into the trap of buying backlinks from them because they seem cheap and easily obtainable.
PBNs. These are the types of blogs specifically created for the purpose of linking out to other websites in exchange for monetary compensation. Google sees this as an attempt to game the search engine ranking algorithms and will penalize you if it determines your backlinks are coming from such sources.
How to choose the best link building agency for the job?
More often than not, you get what you pay for, so pricing, while important, shouldn't be the only factor based on which to select the best link building services for the job. You should look for the following:
Reputation. In the SEO and link building industry, reputation is everything. Check what their clients are saying on various review portals, social media, etc.
Backlink quality. You want your chosen provider to be working with quality backlink sources as well as follow the best industry practices (we've discussed this more in-depth under one of the previous sections).
Communication. If they make you feel valued as a customer, this is a good sign. It also makes it more likely you're dealing with someone who's willing to go the extra mile to accommodate the specific needs of your business.
Transparency. You should know exactly what you're paying for. In other words, the service provider should give you the relevant metrics such as Domain Rating (DR), Domain Authority (DA), etc.
Reporting. This is especially important with link building services that come with a monthly subscription. You want to know exactly where you stand and what you're getting for your money.
Getting backlinks: 15 proven methods that work like a charm and are safe for Google
1. Guest posting
Guest Posting is and has been the most consistent and scalable way of pro-actively building backlinks for many years. Although abused heavily, this strategy still works wonders if done right. Though time-consuming and labor-intensive, reaching out to relevant prospects and striking a deal to publish content with contextual backlinks to your website is all your need to conquer SERPS. In fact, for many businesses, this link-building tactic is all they need if they have sorted their on-page SEO strategy. If you do not have the time for prospecting and blogger outreach, consider working some of the best guest posting service providers that will do it for you.
2. Parasite websites
Wouldn't it be nice to ride on the coattails of someone else's authority? With parasite websites, you can. The idea is to capitalize on websites that have a high DA score and publish content of some LSI keywords to your main topic. These are fairly easy to rank given these websites command decent authority and in most cases do not need any links to the content as well.
While you're at it, don't forget you're primarily using these high authority websites to get a valuable link back to your main website. In essence, you're killing two birds with one stone – ranking your content without any extra work by targeting LSI keywords while getting some quality link juice.
3. Create resource pages
Now here's a completely new take on link building – getting others to do it for you without paying them. Say, what? You've got that right! The way to do it is to build resource pages that are so well written, helpful, and all-around amazing that others will be happy to link to them without you even asking.
Want to take this concept to the next level? Focus on topics that are trending. By doing so, you will also be able to combine this strategy with social media and draw in some quality traffic well before your content starts ranking in the search engines.
The way to go about doing this is to use any relevant hashtags that people are searching for. Before you know it, you'll have unleashed a traffic tornado that will keep on bringing content-hungry visitors to your website!
4. Fix other people's broken backlinks
Wait a minute… how will doing other people a favor benefit your SEO? Simple. By scanning other webmaster's articles and determining whether they contain any broken links, you will be able to bring the issue to their attention and ask for a backlink to your website in return.
Why would they be willing to give it to you? Well, if you've written an article that is at least as good as the resource they were linking to originally (or ideally even better), it will be a no-brainer fix for them to implement. In other words, not only will you have solved their broken link problem, but also improved the quality of their resources. If the quality of your content is up to par, they will be more than happy to do it your way.
If you can write great content yourself or have a talented writer on the team, the most challenging aspect of this SEO strategy is to actually find web pages with broken links in them. The good news is, there are several SEO tools out there that can automate the process in its entirety.
5. Infographics
Distributing Infographics is another way to get other people to link back to you without even asking. In order for this to work, you really need to design them with the reader in mind, meaning you'll have to focus both on the content as well as the way it's presented. In practice, this means structuring the key points in a well-organized manner and working with a graphics designer to make each section look neat and tidy.
In addition, the topic you select for your infographic can either make or break your strategy, so make sure to research what kind of infographics have performed well for your competitors and try to come up with something similar. Typically, a willing formula will feature some kind of actionable takeaways that will help bring the reader to the desired outcome. Facts or statistics-based content also tends to perform well. Aim to sprinkle in some of the "WOW!" factor and you should do quite well with them.
6. Ask your business partners or suppliers for a backlink
Since your success also means success for the people you're working with, a viable SEO strategy is to simply reach out to them and ask for a backlink. Depending on your industry, sometimes it can truly be as simple as that.
The key to making this work is to be on friendly terms with your business partners. But if you know how to treat them well, there shouldn't be any objections to your proposal. In case they have a dedicated web page where they list their business partners, asking them to be featured on it probably won't take much convincing on your part.
7. Reach out to influencers to promote your brand
Working with influencers from your niche is a good way to get your brand seen by their audience of raving fans. Chances are, it will be quite targeted, thus netting you some quality leads along the way. At the same time, of course, you'll be getting a backlink.
In essence, this is a win-win arrangement. In exchange for some form of compensation, the influencer will promote whatever it is that you're selling. In general, it shouldn't be too hard to get them to cooperate. After all, they're looking for ways to monetize their audience as well.
At the same time, if you focus on lesser known influencers, hiring them to do your bidding won't cost an arm and a leg either. Besides, their audience will likely be more targeted as well, at least compared to working with big name influencers. Remember, it's not about getting the highest number of clicks – your aim should be to keep your marketing campaigns targeted and cost-effective.
8. Q&A websites
How do you get your content in front of others? By jumping in right when they're actively looking for help by getting their questions answered. Nowadays, the web is full of Q&A websites that are brimming with people who are actively seeking guidance this way (Quora and LinkedIn Answers are two that stand out the most).
However, mindlessly tossing your link up there and praying it will work will get you nowhere other than having your account shut down for spamming. Therefore, you should have a clear strategy on how to proceed. In general, you should aim for answering your reader's questions in a clear and concise manner without going into too many details. This way, your answer will be helpful but also act as a teaser of what's to come when they visit a detailed guide you've published on your website that covers the topic inside and out. See where we're going with this?
You can also include a CTA at the end of your answer to get a higher CTR without being too pushy. Instead of shouting "download now!" or "click here!", find a way to subtly nudge them in the right direction by saying things like "on my website, I've published an article that addresses the topic in detail" or something similar. If you did a proper job answering the question in an informative manner, no one will view your post as spam. Plus, you'll secure yourself a nice little backlink along the way.
9. YouTube
Since you've written so many articles before, why not use them as manuscripts for videos, produce them, and publish them on YouTube? Don't make the mistake of thinking that the world wide web begins and ends with Google. Sure, it may be the number one search engine in existence, but YouTube is the second largest one. If you're not tapping into this powerful source of traffic, you're not only doing yourself a massive disservice, but also leaving money (and backlinks) on the table.
If you're uncomfortable with the idea of putting your face in front of a camera, you don't have to! Slapping together a couple of PowerPoint slides and talking over them is completely fine. Alternatively, you can also see if there's some automated video production tools you could use. These work on the principle of stringing together various open source videos that are thematically related to what you are talking about. Of course, there's always the old-fashioned way of outsourcing the entire video creation process to a freelancer. Either way, YouTube will give you some direct traffic as well as backlinks to your website.
10. Create an awesome free web-based tool
If you have some coding skills, now's the time to put them to a good use and let them fetch you a boatload of backlinks. No, we're not talking about developing link spamming bots (nowadays, this won't get you anywhere in terms of SEO and may even harm your rankings). Instead, you can channel your energy into coding free web-based tools that others will happily link to without even having to bribe them into it.
Examples include:
Word counters
Grammar checkers
Keyword research tools
Data scrapers
Etc.
If you want to seek inspiration and ideas, see what other big name players in your industry are doing. For instance, Adobe offers a lighter version of its paid tools that can be accessed online for free. Remember that it all starts with a good idea. In case you know how to code, the execution part won't be a problem. Otherwise, simply outsource the task to a qualified freelancer.
11. Social media
Although backlinks obtained from various social media channels tend to be "nofollow" in nature, don't discount their potential. First of all, these kinds of links will help contribute to a more naturally-looking backlink profile. Secondly, you will be getting some direct clicks and traffic to your website. In case you've built your social media presence around growing a targeted audience, it doesn't take much to realize how valuable these can be.
A good practice for growing your social media channels is sharing helpful tips, articles, and guides your target audience is likely to be interested in. Every once in a while, you can also share some funny or inspiring stories from your day to day life or perhaps even give them a behind-the-scenes glimpse into what you're currently working on. The key to making this work is consistency, so get in the habit of posting regularly. Remember that the main objective is to get new customers through the door – getting backlinks comes secondary.
12. Go after those who steal your content
Although your knee-jerk reaction may have you trying to take down their stolen content through a DMCA notice, perhaps it's time to think this one through a bit more. Instead of wasting a ton of energy on battling them while barely getting anything in return, why not consider letting them keep the content they've stolen in exchange for a backlink to the original source?
Since you were the first to publish the article, Google will credit you as the author and thus rank your article higher than the stolen duplicates anyway. Therefore, there's nothing to worry about from the SEO perspective. The extra backlink you'll be getting by reaching out to them could help move the needle with your search engine rankings, so it's one of the best ways to respond to having your content stolen.
13. Do some good old-fashioned blog commenting
Yes, the vast majority of backlinks that come from blog comments will be "nofollow". However, they may be worth pursuing nevertheless. If you do your best to help the readers by contributing something valuable to the discussion, this will help getting your brand seen. Plus, even a "nofollow" backlink is an integral part of a natural-looking backlink profile.
If you're going to be pursuing blog commenting as a link building strategy, keep in mind it's best to avoid including your links in the body of the message, lest you risk having them removed by the moderators or even not getting your comment approved in the first place. Also, providing value and being helpful is of paramount importance. Nowadays, you'll be hard pressed to find someone willing to approve junk like "I like your website" or "thank you for this great article", especially if your nickname is linking back to your website. You're going to have to do better than that.
14. Press releases
Since the dawn of time, press releases have served as a good way to increase brand awareness. If done right, journalists from various publications will pick them up and publish them on their websites while linking back to your website where readers can get more information about the topic at hand.
In addition, these backlinks will introduce some much needed diversity to your backlink portfolio. In fact, publishing something groundbreaking could even get you noticed by the industry's largest news media outlets, securing you some nice and juicy "dofollow" backlinks along the way.
Know that getting your news article picked up will be much easier if you structure it properly. To do so, it's essential for it to provide answers to the following questions:
What's the key message you're trying to get across?
What is your target audience?
Why should the readers bother consuming it?
When will the product, event, or service go live?
Who will act as the company's spokesperson?
Tweak these to better suit your industry or niche and you'll have a solid idea on how to write an attention-grabbing press release.
15. Spy on your competitors
When it comes to link building and SEO, there's no need to reinvent the wheel. Why go through the hardships of uncovering backlinking opportunities all on your own if you could simply check your competitors' backlink sources and see if you can convince the same websites to link back to you as well?
Chances are, if any given website was willing to link back to them, they won't hesitate to link back to you as well, provided your content is truly exceptional. Be willing to expect they may ask for something in return; typically, this will be an article they can publish on their website or another form of compensation.
Whether taking them up on their offer is worth it or not should be decided on a case-per-case basis. Here, the key two metrics to look for are domain authority and topical relevance – having a backlink from such a source will do wonders for your search engine rankings.
FAQs
Before you start working with your chosen link building agency, asking the following questions will help you qualify them for the job:
How many years have you been working in the link building industry?
Although there are certainly some talented emerging link building companies, there's also a fair share of fly-by-night operations that promise the moon and then leave you hanging. Unless you want to take that risk for no reason, it's much safer to stick with those with a proven track record of consistent results and customer satisfaction.
What's included as part of the link building services?
Again, transparency is key. Will you be getting a custom report? How detailed is it and what metrics does it contain? Unless they let you choose them yourself, you should also ask about what type of backlinks are going to be built. Considerations include guest posting, broken link building, social media backlinks, etc. Keep in mind that a healthy backlink portfolio tends to be diversified.
What does the process look like? Do you require anything else from me?
The exact steps to take should be clearly communicated on the provider's end. In most cases, they will explain the process on their official website, but sometimes, certain details are omitted for the sake of keeping it digestible and easily understandable. At any time you're not entirely clear on something, it's best to ask them. As a general rule of thumb, if they'll be doing any kind of guest posting, the process is rather straightforward, with the only remaining question being whether they'll write the content for you or if you're expected to provide it yourself.
When will you complete the project?
Your chosen provider should be able to give you a rough estimate of when the links are expected to be live and crawlable by the search engines. This will help you plan out your SEO campaigns better. However, note that building backlinks is not about speed – it's about quality, relevance, and natural authority over time.
Do you provide progress reports?
Progress reports are synonymous with transparency. No one wants to buy a cat in the bag – that's why the best link building services tend to include progress reports without you even asking. As part of the report, you should be able to see crucial metrics such as where the link was built from, the domain's DR and DA rating, etc.
Are your link building services safe for Google?
Since you are likely to get a 'yes' from every service provider, it's wise to dig even deeper and ask concrete questions like what specific link building techniques they use, whether they resort to automation or not, and what sources they will build the backlinks from. You should evaluate their response based on how well they match up with the criteria you've learned in this article.