Ever since the early days, search engines used backlinks as one of the main indicators of a website's relevance and trustworthiness. In the beginning, it was more about the sheer quantity of them, but in the modern days, quality and relevance have taken precedence.
None of it has remained a secret in the SEO industry for long, thus making webmasters flock to purchasing links from the link building companies. To this very day, ranking in Google without backlinks is almost impossible, unless you're operating in some undiscovered niche or piggybacking off of the power of a high-authority domain.
However, not all link building services are made equal and it's wise to do your due diligence before you start working with any of them. The last thing you should do is put your trust in some no-name provider that will tank the last hope of your website ranking for your chosen keywords by blasting it with tons of toxic low-quality backlinks – this is a bad practice you should avoid at all cost!
We've vetted the best link building services
To reduce the sheer amount of hours you'd have to put into researching this all on your own, we've taken the liberty to scour the web for guest posting and link building agencies and rank them, and the list includes the most popular ones you'll see around today.
The following deserve the honor of ranking in the top 10: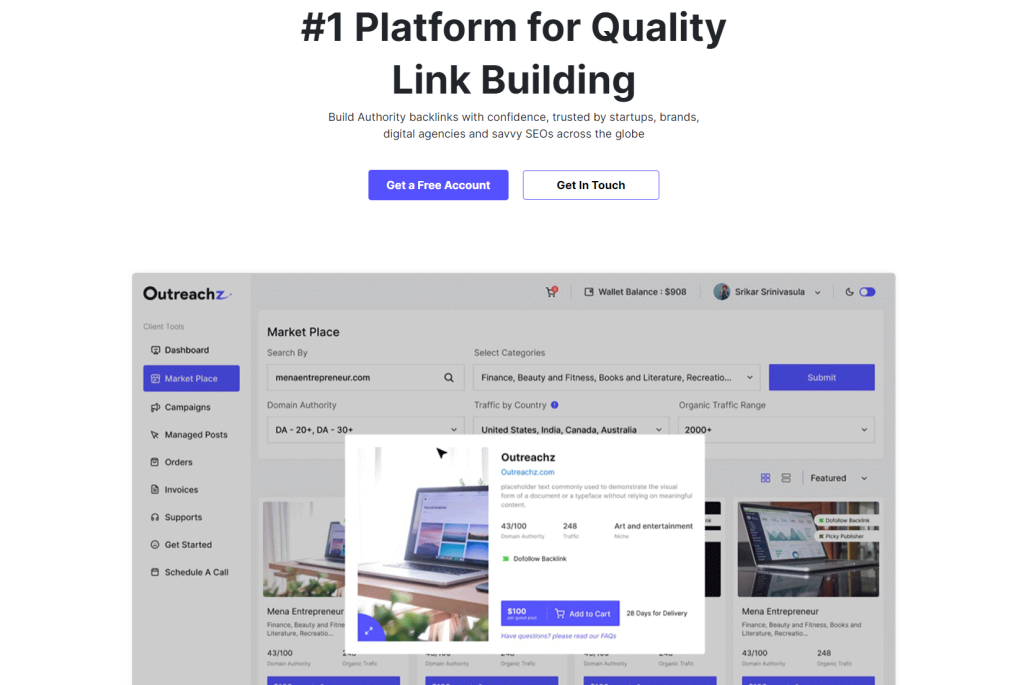 With their unique approach to blogger outreach, OutreachZ easily ranks among the top link building services today. Thanks to its massive and ever-growing marketplace, you are free to take your link building strategy into your own hands by choosing to have your links published only on the blogs that are the most relevant authority in your niche. Their platform is a massive timesaver that acts as the connecting point between backlink seekers and bloggers who are willing to link back to their websites in exchange for great content. Transparency is its middle name; every blog has all the industry-relevant metrics displayed next to it in a user-friendly and intuitive interface, including DA and DR.
If you prefer having an experienced expert around to guide you on your guest posting journey, RankZ is the platform to choose. Their devoted team of SEO professionals will examine your case and advise you on the best steps to take to secure the top search engine rankings. This managed SEO service provider is known for having a personalized approach that is based on each customer's individual needs. The benefit of working with them is that you will also get an in-depth SEO analysis of your website to help you figure out where your website is the most in need of SEO improvements. To keep things transparent and organized, every backlink they'll build for you will be listed in a detailed report that contains the exact URL as well as the most important industry metrics such as DA and DR.
3. uSERP
This link building services provider is a household name in the SEO industry, earning the trust of some of the most highly-trafficked websites in the world such as Monday, Robinhood, Freshworks, and others. Utilizing a quality-over-quantity approach to link building, uSERP will gradually build backlinks to your website to ensure a natural boost in search engine rankings. They don't mind facing a challenge and they will get your website to the top of Google even in the most highly competitive markets. Whether it be through blogger outreach or other white-hat SEO methods, they will choose the best approach depending on where your website currently stands in terms of rankings.
4. Screaming Frog
Screaming Frog houses some of the industry's most talented marketers, PR experts, and SEO specialists, making it one of the most diverse teams with the right skills to tackle any challenge you throw their way. They're about more than just rankings – the goal is to make your brand a recognizable name in the industry you operate in. They believe your website will truly start getting organic backlinks and mentions once you enter that territory (notice their focus lies on "attracting" rather than "building" backlinks). Either way, their overall strategy incorporates initiating mutually-beneficial relationships with bloggers and influencers to propel your way to the top. They also offer supportive services such as social media management and content writing.
5. Digital Current
This is one of those link building agencies that never rest on their laurels. Instead, they strive to keep on top of the latest industry trends by analyzing the pattern of change in the algorithms – after all, this is a very "do or die" industry. Utilizing a systematic approach to link-building using white-hat SEO tactics exclusively, they have all the tools and know-how to propel your website to the top of the search engine rankings. To do so, they rely on more than just written content alone – think of stunning infographics, partnering with influencers, blogger outreach, and more.
6. Whitespark
Whitespark is an SEO provider with an edge. Best known for their citation-building approach, they will help you drive more traffic and sales using all the tools and methods available in a creative way. If it makes sense in your industry, they will recommend tapping into the potential of Google My Business, for which they've also developed their very own management service. Their other paid tools and services include a reputation builder, a rank tracker, and a local citation finder. In the end, their website promises to help you get more customers from Google, and this is exactly what they will help you achieve.
7. LinksThatRank
As the name implies, LinksThatRank is one of the best link building services that builds every single link manually without resorting to automation or spammy tactics. Unless the link meets strict quality guidelines that cover everything from relevance, authority, and diversity, it's not going to be built. One of the criteria they use is to strictly stick to building links from websites that are already naturally receiving a lot of traffic, so you won't find them using static cookie-cutter pages. This is the reason why sourcing backlinks from them won't be the cheapest endeavor, but in the end, you'll find it to be well worth the money spent.
8. FatJoe
FatJoe is one of those link building services that don't want to give you any hassle. Right off the cuff, you're presented with an intuitive dashboard from which you can place and track your orders. Depending on your needs, there are plenty of SEO services to choose from, including blogger outreach. In essence, the agency will do all the heavy lifting for you and get in touch with relevant bloggers in your niche without you having to lift a finger. To keep your backlink profile diversified, they also advise you to incorporate press releases into your SEO strategy.
9. Linkology
When doing SEO, one of the hardest things you'll ever find yourself doing is identifying the best backlinking opportunities in your niche. Linkology's unique contribution is that they are willing to help you out and make it easier on you by finding the top authority websites in your niche that are open to linking back to you. Once they've identified them, they will proceed to write top-quality content with backlinks that direct traffic to your website and get you noticed by the search engines. With their quality-driven approach, working with link building companies like these is a surefire way to get the much sought-after credibility in your market or niche.
10. Siege Media
Siege Media is an SEO agency that perfected its craft of producing organic backlinks through high-value content distribution. We're talking about the kind of content the world's top brands wouldn't think twice about publishing on their main website and this particular agency has indeed worked with the best of them: AirBNB, Zillow, TripAdvisor, and many others. Focusing on quality rather than quantity, they won't tell you the exact number of backlinks to expect each month, but they will give you a ballpark figure.
Do backlinks still play an important role in SEO?
Although top-level Google executives have been preaching to always think in terms of giving value to the reader and answering their questions first and foremost, in practice, this is just one element of a wholesome SEO strategy your company needs to get noticed. The other part, of course, is backlinks and both of these strategies are essential to succeed in the competitive SEO landscape of today.
In other words, Google and other search engines see backlinks as an indicator of trust, a vote of confidence by other webmasters if you will. Of course, there are various types of backlinks and not all of them are created equal. For instance, do-follow backlinks are far more valuable than no-follow backlinks, but you should also make sure to build them from thematically relevant sources.
To keep your backlinking portfolio looking natural, you should avoid the telltale signs of search engine manipulation such as using nothing but the exact keyword phrase in the anchor. When building backlinks, as long as you focus on quality and relevance, you should see a gradual boost in your search engine rankings.
What are link building services and why are they important?
As the name implies, link building services help you secure valuable and thematically-relevant backlinks to your website. Depending on how you execute it, this can be a completely white-hat SEO strategy to help propel your website to the top of the search engine rankings for your targeted search phrases and keywords.
Ever since the beginning, Google has viewed backlinks as one of the most important signals of authority. The best link building companies can help develop a custom-tailored link building plan for you that's unique to your website, where it currently ranks in the search engines, and what niche it operates in. This may involve guest posting, blogger outreach, distributing press releases, and similar.
By working with one of these agencies, your search engine rankings will slowly but surely grow, thus boosting your website's traffic in an organic way. In turn, the sales you'll be getting through the digital marketing channel will also increase.
The benefits of working with link building companies
There are numerous benefits to integrating link building services into your online marketing strategy, including but not limited to:
Higher search engine rankings. Old-school digital marketers used to joke that the best place to hide a dead body is on the second page of Google. So either you're on the first page or buried underneath the weight of other listings, both organic and paid.
More traffic to your website. Once you start conquering the search engines you'll be getting more clicks, which translates to more visits and more sales.
Time savings. It's much more convenient to let an expert handle this part of your business so you can focus on what you excel at and devote yourself to making it a success.
Avoiding penalties. The backlinks built to your website must be of high relevance and come from high authority domains. If, however, they are built from dubious sources in large volumes over a short period of time, you are likely to get penalized by the search engine algorithms. Working with trustworthy link building services helps you avoid the problem.
Establish your brand as an authority in your niche. With higher visibility comes making your voice heard by the industry. With a larger share of the market, you will be recognized as an expert in your field.
Measurable results. Compared to traditional forms of advertising, SEO yields consistent and measurable results. You can track if things are working and scale your link building campaigns on demand.
How much do link building services usually go for?
The price link building companies will charge you mostly depends on the quality and volume of backlinks sought. This can be anywhere between $150 and $1000. If the link is obtained through guest posting, someone will need to write the article, which can add to the initial cost. If you're willing to do this part yourself, the only cost is your time, otherwise hiring a writer (or letting the agency do it) will be an additional expense. Keep in mind that certain industries are generally more expensive than others when it comes to link acquisition. Examples include real estate, loans, casino, and finance.
Best link building practices
Since you won't be doing any link building yourself, is it still important to know the best link building practices? The answer is yes, you should have a solid understanding of how link building affects SEO and how to discern high-quality backlinks from the toxic ones. The reason being is that knowing this will also help you pick the kind of link building agencies that are in line with the best industry and SEO practices.
In general, SEOs agree that high quality backlinks must be:
Relevant. If you're in the health industry, for example, the backlinks you build to your website should be from thematically relevant sources (or as close to it as possible). There's a logical reason for this. Let's say you're selling diet supplements for this example. Getting a positive review and a link back to your website from Dr. Oz would be a great thing. Getting one from a puppy care product website? Well, unless the diet supplements in question are also suitable for dogs, the backlink wouldn't be as relevant.
Natural. Google wants to see that a webmaster has awarded you the backlink because they believe your website brings something valuable to the table. Otherwise known as 'editorial backlinks', these are some of the most powerful ones you can get and are also considered as some of the safest. Of course, you must never overdo it as a large volume of backlinks in a short amount of time has 'link manipulation' written all over it.
Reputable. For obvious reasons, getting a backlink from BBC will do greater things for your online credibility than getting one from your neighbor's hobbyist blog. In turn, some of that reputation will spill over to your website. In the past, general high authority links used to be the holy grail of link building, but nowadays, it's more about the authority that's combined with the link coming from a thematically relevant source.
The dangers of low-quality link building
Gone are the days when every backlink had a favorable effect on your search engine rankings. In fact, there are certain types of low quality backlinks that can do more harm than good. If Google identifies you as someone who engages in spammy link building practices, you're setting yourself up to be penalized which comes with a substantial drop in your search engine rankings. Although situations like these are salvageable to some degree (for instance, you can opt to disavow the problematic links), it's best to avoid this scenario altogether.
At any rate, you should steer clear of the following low quality and toxic backlink sources at all costs:
Link farms. These typically host all sorts of stolen, duplicate, or low-quality content or in some cases, little at all – they're solely designed for blasting backlinks to other websites in exchange for payment. These are extremely toxic and are likely to have a negative impact on your search engine rankings. Often, novice link builders fall into the trap of buying backlinks from them because they seem cheap and easily obtainable.
PBNs. These are the types of blogs specifically created for the purpose of linking out to other websites in exchange for monetary compensation. Google sees this as an attempt to game the search engine ranking algorithms and will penalize you if it determines your backlinks are coming from such sources.
How to choose the best link building agency for the job?
More often than not, you get what you pay for, so pricing, while important, shouldn't be the only factor based on which to select the best link building services for the job. You should look for the following:
Reputation. In the SEO and link building industry, reputation is everything. Check what their clients are saying on various review portals, social media, etc.
Backlink quality. You want your chosen provider to be working with quality backlink sources as well as follow the best industry practices (we've discussed this more in-depth under one of the previous sections).
Communication. If they make you feel valued as a customer, this is a good sign. It also makes it more likely you're dealing with someone who's willing to go the extra mile to accommodate the specific needs of your business.
Transparency. You should know exactly what you're paying for. In other words, the service provider should give you the relevant metrics such as Domain Rating (DR), Domain Authority (DA), etc.
Reporting. This is especially important with link building services that come with a monthly subscription. You want to know exactly where you stand and what you're getting for your money.
FAQs
Before you start working with your chosen link building agency, asking the following questions will help you qualify them for the job:
How many years have you been working in the link building industry?
Although there are certainly some talented emerging link building companies, there's also a fair share of fly-by-night operations that promise the moon and then leave you hanging. Unless you want to take that risk for no reason, it's much safer to stick with those with a proven track record of consistent results and customer satisfaction.
What's included as part of the link building services?
Again, transparency is key. Will you be getting a custom report? How detailed is it and what metrics does it contain? Unless they let you choose them yourself, you should also ask about what type of backlinks are going to be built. Considerations include guest posting, broken link building, social media backlinks, etc. Keep in mind that a healthy backlink portfolio tends to be diversified.
What does the process look like? Do you require anything else from me?
The exact steps to take should be clearly communicated on the provider's end. In most cases, they will explain the process on their official website, but sometimes, certain details are omitted for the sake of keeping it digestible and easily understandable. At any time you're not entirely clear on something, it's best to ask them. As a general rule of thumb, if they'll be doing any kind of guest posting, the process is rather straightforward, with the only remaining question being whether they'll write the content for you or if you're expected to provide it yourself.
When will you complete the project?
Your chosen provider should be able to give you a rough estimate of when the links are expected to be live and crawlable by the search engines. This will help you plan out your SEO campaigns better. However, note that building backlinks is not about speed – it's about quality, relevance, and natural authority over time.
Do you provide progress reports?
Progress reports are synonymous with transparency. No one wants to buy a cat in the bag – that's why the best link building services tend to include progress reports without you even asking. As part of the report, you should be able to see crucial metrics such as where the link was built from, the domain's DR and DA rating, etc.
Are your link building services safe for Google?
Since you are likely to get a 'yes' from every service provider, it's wise to dig even deeper and ask concrete questions like what specific link building techniques they use, whether they resort to automation or not, and what sources they will build the backlinks from. You should evaluate their response based on how well they match up with the criteria you've learned in this article.