When you think of SEO, the first thing that probably comes to mind is keywords. After all, finding relevant keywords and incorporating them into your content is an important aspect of getting seen online.
However, there's more to SEO than simply optimizing your content for specific keywords. In fact, websites rank based on various factors, one of the most important being backlinks. With so many websites vying for Google's attention, how can you make your website stand out from the crowd? Backlinks can help.
While the algorithm Google uses to rank websites has grown more sophisticated over the years, you cannot underestimate the importance of backlinks. So, what are backlinks and why are they important? This article explains everything you need to know about backlinks and their significance in SEO.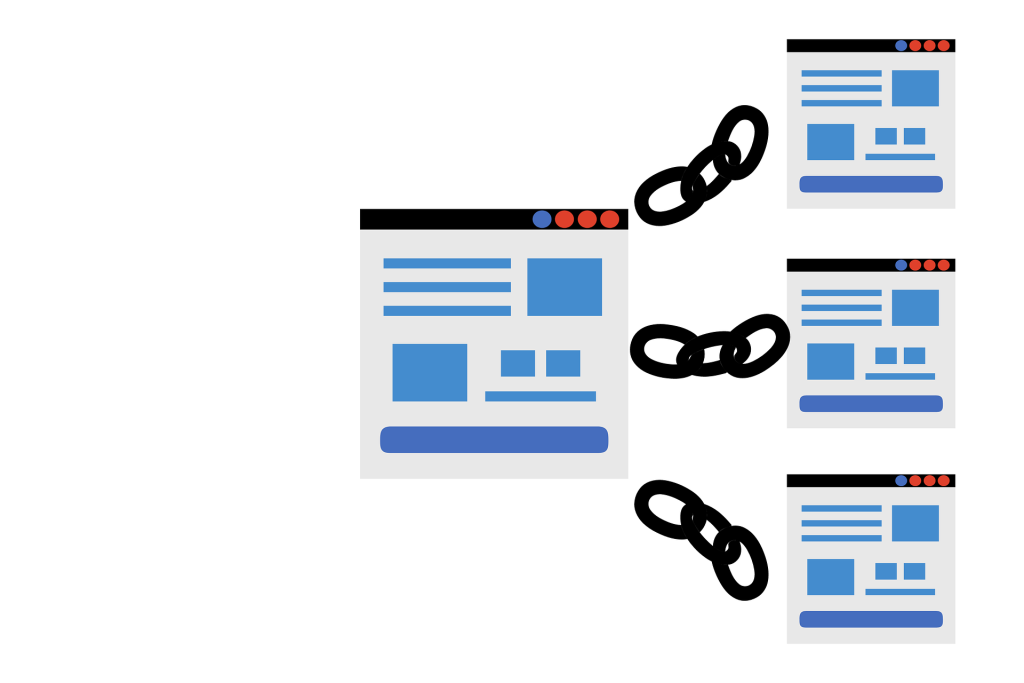 What Is a Backlink?
Backlinks are links from other websites that point to your site; they are also called inbound or incoming links because they generate traffic from another website to your own.
In SEO, backlinks are like votes for your website that act as third-party endorsements or votes of confidence from other websites. It tells search engines that your website has helpful information and is worth linking to. So, the more backlinks you have, the more popular your website is with Google, and the higher it will rank in the search engine results pages (SERPs).
However, to get the most benefit from backlinks, you must know how they work and how to ensure you get quality backlinks.
How Do Backlinks Help SEO?
Why are backlinks important for SEO? As the world of SEO continues to evolve, the importance of backlinks has become more and more evident. In the early days of SEO, backlinks were one of the easiest ways to manipulate search engine rankings. However, as Google has become more sophisticated, they have been able to identify and penalize sites that engage in link manipulation.
Google has proven over the years that backlinks are still an essential ranking metric in SEO. They represent trust and authority and can help your site appear on the SERPs. The more backlinks you have, the better your chances are of ranking high in search engine results pages.
So, if you are planning to improve your SEO and get more traffic to your site, you need high-quality backlinks. However, as with all things in SEO, there is no one right way to build backlinks. You can use various strategies, including guest posting, creating quality content that other websites can reference, running social media campaigns, buying links from link building services, and more.
The Importance of Backlinks
Backlinking increases traffic to your website and improves your search engine rankings. So, creating and maintaining a healthy number of high-quality backlinks is crucial.
Backlinks have long-term benefits, such as improving brand awareness, increasing credibility, and building visitor trust. For instance, if your guest visits your website through a backlink from a website such as the New York Times, they will likely be more confident about the information they find there than when the backlink is from a random blog. With that, you can convince them to trust the content on your page and stay longer or make a purchase.
The importance of backlinks also includes the following:
Increase traffic: A link on a popular page may result in many people seeing your website, promoting your business, and driving up your sales.
Increase brand exposure: The more potential customers click on the links, the more exposure your brand will gain.
Better connections: Backlinking campaigns can help build relationships with other influencers in your niche.
Rank with keywords: Backlinks can help you rank for keywords that you might not otherwise rank for.
What Makes a High-Quality Backlink
While you can get backlinks in different ways, you should note that not all backlinks are created equal. Anyone can make backlinks, but you want to ensure you get valuable ones. In terms of quality, backlinks are divided into three groups, which are:
Low-quality backlinks: These are classified as web spam because they are often created in a way that manipulates Google's guidelines and algorithm. So, as a penalty, you might not appear on the SERPs. Buying a low-quality backlink can do more harm than good to your website, and it will be better if you avoid them at all costs.
Medium-quality links: these offer value (domain authority and trust score) and are easier to obtain than high-quality links.
High-quality links: These offer the most value (domain authority and trust score) but are more difficult to obtain because the standards are often much higher. So, whatever your SEO strategy is, your ultimate target should be to buy high quality backlinks.
Search engines look at various factors when determining the quality of a backlink, including the authority of the site linking to you, the relevancy of the link, and whether the link is a follow or no-follow backlink. For a backlink to be high-quality, it must meet these specific criteria:
The linking website must have a good reputation and be relevant to your website.
The link should also be from an authoritative source within your industry.
You should place the link on a page with relevant content to your website.
The backlink should not be from a link farm or low-quality website.
It must be a do-follow backlink.
Why Do the Quality and Quantity of Your Backlinks Matter?
Regarding backlinks, quality and quantity both matter. The more high-quality links you have pointing to your website, the more Google will see you as an expert in your field and give your website a higher ranking result.
However, having many low-quality backlinks means nothing to Google and can hurt your SEO, while having a smaller number of high-quality backlinks can help improve your ranking.
To build quality backlinks, focus on creating valuable and informative content that other websites will want to link to. Alternatively, you can reach out to some of the best backlink websites to help you.
Quality matters more than quantity in backlinks, so while you may not worry much about getting hundreds of links, you should focus on getting a few high-quality links from relevant websites.
Here are a few key things to know about getting backlinks:
Quality is more important than quantity. It's better to have a few high-quality backlinks than many low-quality ones.
Relevance is crucial. Backlinks from sites that are related to yours will be more valuable than those from unrelated sites.
The anchor text (the text that is linked to your site) should be relevant and keyword-rich for maximum benefit.
Backlinks should be natural and not forced. In other words, don't try to manipulate the system by artificially creating backlinks; this can do more harm than good.
If you can focus on these four things, you'll be well on your way to building a solid backlink profile that will help improve your SEO significantly.
What Are Follow and No Follow Backlinks?
Generally, there are two ways to differentiate a link and tell Google how to associate with the website you are linking to: follow and no-follow backlinks.
Although readers may not recognize the difference between these two links as both lead them to your website, the fundamental differences are in the HTML codes and your PageRank score.
Follow backlinks are links that pass along link value, or "link juice," to the linked website, and this type of backlink helps improve your SEO. It looks like this: < a href="https://followbacklinksexample.com" > Write your anchor text here.</a>
No follow backlinks don't pass along link value and won't help your SEO. They often have a "no-follow" attribute in the HTML tag that tells search engine crawlers not to follow the link. This means that the website does not endorse your website, and Google, in response, will overlook the backlink.
Here is what a no follow HTML backlink code looks like: < a href="https://exampleofnofollowbacklink.com" rel="nofollow" > write your anchor text here </a>
So why would anyone want to create a no-follow backlink? One of the main advantages of Nofollow links is the possibility of generating more traffic to your website, as they do not affect people's ability to click on them. Overall, they can increase your conversion rates.
However, if you're improving your SEO, you should focus on getting more follow backlinks. You can do this by creating great content that people will want to link to or finding out where to buy backlinks from services that offer such.
What Is the Difference Between Backlinks and Internal Links?
Backlinks and internal links are elements of SEO you should not substitute for each other. While backlinks are links that point to your website from other websites, internal links, on the other hand, are links that point from one page on your website to another page on your website.
Both backlinks and internal links are important for SEO because they help search engines rank and understand your website and its content.
While backlinks act as a vote of confidence for your website, internal links make it easier for Google to crawl, index, and understand every page. So, if you implement them effectively, they can transfer page authority to your website.
In general, ensure you focus on getting high-quality backlinks from reputable websites. But remember to add internal links to your pages so that search engines can easily find your content and index it.
Conclusion
Now you know the importance of backlinks and how getting high-quality backlinks can make a huge difference in your SEO strategy. The question now is how to buy backlinks for your websites.
Several link-building services can help you build the best backlink strategy and get quality links that will move your website to the top of the page! So, why wait? Check out the best backlink websites now and improve your SEO!