Liveramp Identitylink Comes to Bing Search Ads
A June 13
press release
from data onboarding and identity resolution provider LiveRamp has revealed that it is making its Identitylink service available on Bing Search Ads. With Identitylink, a brand can target its ads to specific customers when they do searches on Bing. The service has already been a feature on Google's Customer Match for about a year, now.
New Custom Audience Ad Targeting Requirements Announced by Facebook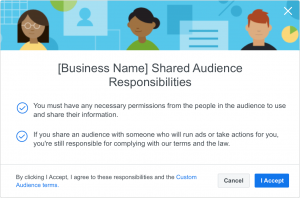 Facebook announced on June 13 that effective July 2, it will put new requirements in place for all advertisers who use its Custom Audience ad targeting service. The company says the measures are "focused on additional accountability and transparency." Advertisers will now be required to detail the origin of the audience information they upload. They also must have "necessary permission" from audience members to "use and share their information."
Google "Ad Settings" Now Let's You Turn Off Targeting Settings
Google will now allow users to turn off ad targeting signals used when they do searches. The change means users can now limit ad personalization and even opt out of it completely. In addition, Google will display its "Why this ad?" notice more often. The feature, effective since 2011, helps users understand why they are being targeted with certain ads on Google services, such as Search, YouTube, Gmail, Maps and Google Play. The company made the revelations in a June 14 blogpost titled "Greater transparency and control over your Google ad experience."
Google Webmasters Tweet about Mobile-First Indexing and Web Light
Google Webmasters took to Twitter early on June 14 to first offer clarification of its Mobile-First Indexing after noticing some confusion among users. These include showing a site's desktop URL to desktop searchers and mobile URL to mobile searchers but showing mobile versions of indexed content to all searchers. The company later tweeted that its Google Search Console now shows Web Light search results data. Essentially, website owners will be able to see how often Google uses Web Light to speed up loading of their pages on slow networks.
Upcoming Events
A Promise of "SEO Shenanigans in Seattle" at STAT City Crawl: Seattle
If you are a Seattle-based company or plan on being in the city on July 10, then you can make plans to stop by STAT City Crawl: Seattle. For a $15 admission fee, this search marketing meetup offers the opportunity to "Load up on deep insight from some of the best and brightest during an evening of SEO shenanigans in Seattle." The day's speakers are identified as high-performing SEOs and includes Brynna Baldauf, Senior Product Manager at Porch.
Hundreds expected at Digital Marketing Summit Southampton – A Search Marketing Conference
Over 500 attendees are expected at Digital Marketing Summit Southampton (Dmsso18) in Southampton, UK, October 18 – 19. Organizers, Eventz Digital, have released a list of presenters, including Lucille Pickering, Google Agency Manager and Abbey Oladapo, Lead Trainer, The Digital Garage/Google. A highlight of the proceedings will be 15-minute 1-to-1 sessions for attendees to directly seek advice from participating experts. Registration is open and tickets (priced at £129) are on sale.