No matter what kind of business you're running, whether it be a niche site, eCommerce store, or your very own agency, the benefits of SEO are numerous. If you're a growth-oriented business owner, you realize the impact quality website traffic can have on your sales and ultimately your bottom line. After all, without getting any eyeballs to your offer, your chances of making a sale are essentially zero.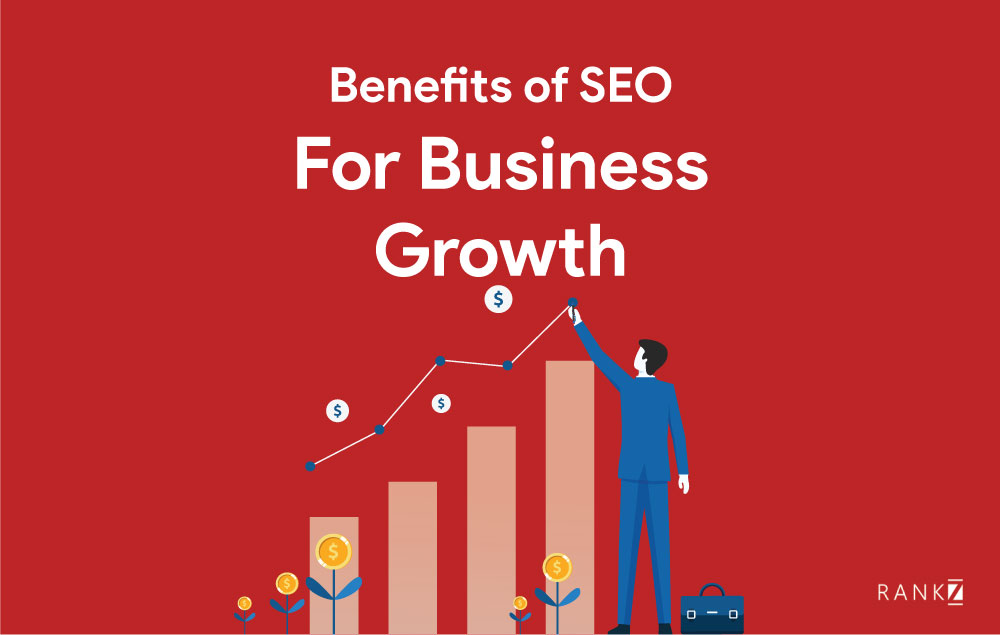 Long story short, good on-site and off-site SEO should be one of the essential building blocks of a well designed digital marketing campaign. Being on the first page of Google when your prospective customers type in relevant search terms in Google to find a business exactly like yours is bound to get your offers in front of the right people who are the most likely to become your customers.
After letting you in on what it involves, we'll list the benefits of SEO for small business owners – it could be the one thing that separates you from reaching a new plateau of success in your industry.
What is SEO?
Search Engine Optimization (or SEO for short) is the practice of making improvements to your website (on-site SEO) and building backlinks to it (off-site SEO) with the goal of boosting its organic search engine rankings. If successful, your website will keep getting more organic traffic that you won't need to pay for, allowing for stable growth of your business over time. Learn the importance of backlinks in SEO.
On-site SEO
In addition to naturally incorporating keywords that people are searching for on your website, there are other tweaks you can make to keep the search engine algorithms happy as well as improve its overall user experience.
For starters, you need to make sure it's quick to load and that it's optimized for mobile and smart devices. The content needs to be well-written and presented in such a manner that the visitors can find what they're looking for in as little time as possible. You should also make sure the navigation is as intuitive and organized as it can be.
Off-site SEO
As the name suggests, off-site SEO has to do with optimizing external factors that have to do with your website in an effort to increase its authority in the search engines. In general, this has to do with accumulating topically relevant backlinks from reputable sources which signals to Google that your website is trustworthy. Understanding the difference between do follow and no follow links can help you develop a balanced and effective backlink strategy that supports your SEO goals.
Why Your Business Needs SEO
There are numerous benefits of SEO marketing, the most notable of which is that your website will keep getting free traffic over time (unlike what is the case with paid marketing campaigns). Think of it as a one-time investment that essentially pays for itself as Google sends more and more customers through your door.
Keep in mind that getting visitors from the search engines is one of the top quality website traffic sources of all. If you're targeting keywords with some form of buyer intent, you're literally placing your offer in front of people who have their wallets wide open and willing to move to the next step of your sales funnel.
Getting more brand recognition and search visibility are both considerable SEO benefits you should not ignore. The more times someone sees your brand, especially if you've shared valuable and helpful content with them, the higher the likelihood they will buy something from you in the future. Remember that they now perceive you as a voice of authority and someone who's helped them out before.
At the end of the day, the benefits of an SEO agency, should you choose to work with one, boil down to an incredible ROI – eventually, your one-time investment pays for itself, and all the rest is pure profit, a recurring income that will keep coming in long after the work is done.
10 Benefits of SEO for Business
There are several benefits of SEO for small business owners, including but not limited to:
1. It Secures Higher Quality Traffic
Did you know that organic search engine traffic is considered to be of a higher quality than paid traffic? The reason being is when a user clicks on a paid ad, there is a certain expectation of being sold to, which makes them mount their defenses, whereas people have a much less defensive mindset when arriving at a landing page through organic means. Therefore, the traffic that comes from the search engines is by definition going to be more receptive and eager to hear what you have to say.
2. It Sends More Organic Traffic Your Way
Once your site is SEO optimized, traffic will keep coming in on its own, whereas paid ads require you to constantly be shoveling more coal into the furnace. Plus, if we refer to the point made above, it's also a matter of trust – when put side by side, most users are more likely to click on an organic search engine listing rather than a paid one. When you finally conquer the first page of Google and clicks start coming in, the benefits of SEO will be clear to see.
3. The Results are Measurable
One of the SEO benefits is that everything is measurable, down to a keyword level. For instance, let's suppose you've launched a campaign that targets the keyword "purple widgets for men in their 30s" (we've made this one up for the purpose of illustration). You've chosen this particular keyword because it ties in with your offerings, enough people are searching for it, and it's easy enough to rank for. Every step of the way, you will be fully aware how many backlinks the SEO agency has built, what your current rankings are for that particular keyword, how many clicks you are getting, and how much it will cost to reach your SEO goals.
4. It's a Long-Term Strategy
As a savvy business owner, it's in your best interest to give preference to sustainable long-term strategies. The fact that your dollar goes very far when pursuing this investment is one of the most notable benefits of SEO for small business owners. If you decide to pull the plug on your SEO campaigns, your traffic will still be there for a good number of years, and so will your sales as a result. Granted, it will take at least a couple of months to get where you want to be (a potential drawback compared to paid ads that work instantly), but if we're talking long-term, SEO is the clear winner by far and wide.
5. It Helps You Provide a Better User Experience
One of the side-effects of doing SEO for your website is that it forces you to polish up on the user experience aspect of it (in a good way). Having your website be quick to load, optimized for mobile, and provide content that's coherent, helpful, and concise, happens to be one of the major ranking factors. Remember that putting effort into providing a great user experience is something you should be doing anyway, even if it weren't to please the search engine algorithms. At the end of the day, you want your users to stay as long as possible and ensure they will keep getting back for more.
6. It's a Budget-Friendly Way to Grow Your Business
When you're just starting out on your entrepreneurial journey, finances are tight. Therefore, you need to be mindful of how you spend your budget. The fact is that SEO can be as affordable or as expensive as you want it to be – the wider the scope of the project, the more it will cost. But the good news is that you can start on a shoestring budget by focusing on the essentials and only targeting a handful of keywords.
7. It Allows You to Stay Ahead of the Competition
In no industry can you afford to lag behind your competitors, lest you will quickly be forgotten. Since your competitors are already investing in it, knowing full well that SEO benefits their businesses, it's on you to jump on the bandwagon to level the playing field. In this day and age, even if your product is the best the market can offer, you're still going to lose out to your competition if it happens to be better at marketing theirs.
8. It Boosts Your Credibility
If your website keeps appearing on the first page of Google for a plethora of keywords, people are going to regard it as a trustworthy source of information. After all, that's literally what it takes to get this far, so investing in this aspect of your business is bound to get you there. It involves making sure that your content is well-researched and well-written, both of which are known SEO ranking factors (if credibility is a priority, you should be doing these things anyway).
9. It Allows You to Tap Into a New Marketing Channel
To reach the most people who are interested in your products and services, you should think about where they are likely to be hanging out. This could be on social media, discussion groups, or various communities, but almost everyone uses Google, perhaps even setting it as their homepage of choice. Remember that, to make any sales at all, your focus should be on bringing your offer in front of people's eyeballs, and SEO traffic is widely regarded as high quality, especially if you're targeting niche-related keywords with buyer intent.
10. It Compliments Your PPC Campaigns
One of the numerous benefits of SEO is that it naturally compliments your PPC campaigns. Although both SEO and paid advertising ultimately accomplish the same objective of getting your website to the top of Google for your targeted keywords, it's important that your users see that you haven't merely bought your way there, but earned it in its entirety.
Conclusion
Once your business has a nice and functional website, investing in SEO is the next logical step if you want to see sustainable long-term growth of your business and sales. Given how much it can do for your credibility and reputation, you should not think twice to have it be a part of your overall digital marketing strategy.