Anyone using Google Ads as part of their digital marketing strategy needs to be aware of the changes that are taking place with their keyword recommendations.
It would be fair to say that these changes create opportunities to hone your strategy but it also has to be said that not everyone is embracing the added features and adjustments to its keywords policy.
Let's take a look at what's new and why your Google Ads campaign might cost you more than you budgeted for in order to reach your target audience.
The bottom line is that Google has recently announced plans to update its optimization scores and the way it intends to do this is devising a way to improve the relevancy and quality of keyword recommendations.
What does this mean?
In basic terms, what will happen in the future is that Google Ads will only put forward recommended keywords if it is believed that they have the capacity and ability to enhance existing traffic numbers beyond what is already being achieved by existing keywords.
The changes don't end there either, as its keyword recommendations have been tweaked so that broad match modifiers are also part of the new changes being implemented.
Google's justification for making what could be viewed as seismic changes are based on the view that focusing on recommendations and optimization scores will help you to prioritize your most impactful opportunities in order to improve account performance.
They predict that advertisers who are able to increase their account level optimization score by ten points, for example, might witness a commensurate ten percent increase in conversions, on average.
Google has created a new table view format in order to make it easier to see an overview of your recommendations and the impact they are expected to have.
As you will see from the example table that they have published there are a number of notable features.
Firstly, you will still be able to toggle between this new table view and the original card view, allowing you to specifically use the new table format to prioritize your recommendations at scale.
You can –
Sort and view recommendations in order of the largest identified optimization opportunity.
View a prediction of how your optimization score changes if recommendations are implemented.
Break down the scoring and recommendations by individual campaigns
Download the table into Excel for further analysis tools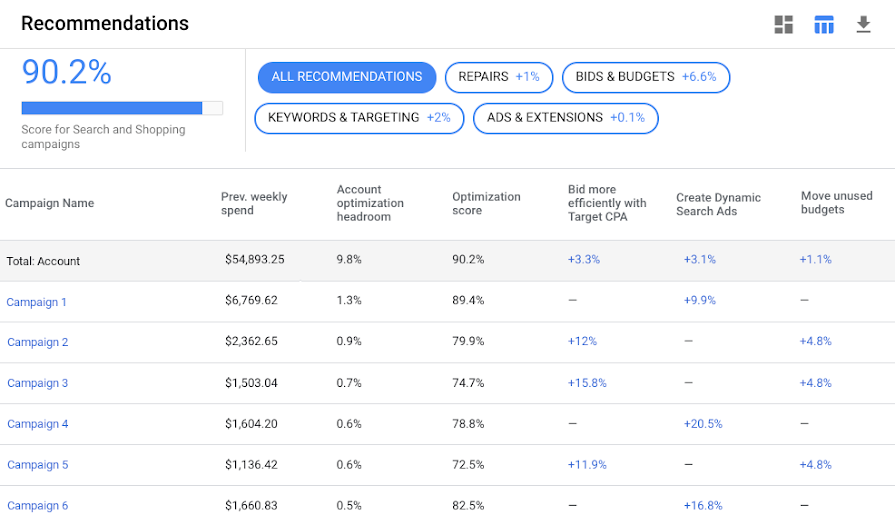 Courtesy of google.com
New features should make it quicker
Google is also suggesting that the new format and features will the process of handling multiple campaigns less time-consuming.
One of these new features allows you to be able to bulk apply or dismiss recommendations with just a single click if you are at manager account level. Having to apply each recommendation individually across different campaigns would take longer so that has to be a positive change.
There are also a number of new features that are worth getting to know.
Automated campaign recommendations allow you to focus on developing more local connections, as well as setting parameters so that you only pay for conversions at the Cost Per Action (CPA ) that you have set beforehand.
The Repairs feature should also prove useful as it should help you to fix any issues with your account that might be having a negative impact on your campaign or when things need adjusting.
This might be issues such as fixing your conversion tracking tag or making suggested improvements to your mobile site.
The recommendations that will be visible to you are customized by Google to be relevant to your account and campaigns that you have running at any one time.
What's not to like?
It often pays to read between the lines and take a contrary view when you are being sold a concept that seems to offer a better way forward.
A fundamental aspect of the new Google Ads changes is focused around keywords and how they are now interpreted going forward.
The promise is that you should be able to get more bang for your buck with the help of recommendations, and on the face of it, there would appear to be positive changes that may give you more control. However, it would be fair to say that these changes create a new set of challenges as well as opportunities.
A positive view would be that you can now enjoy greater visibility with a wider range of search terms without the need to add a mass of keyword variations. A negative aspect of that broader definition would be that anyone with a more limited advertising budget might be frustrated by their inability to target more specific and niche keywords that are highly relevant to their particular industry.
Costs may rise
It always has to remain a top priority that you squeeze as much value out of your advertising and marketing budget as possible, a point not lost on our outreach clients, and that could be an issue when it comes to Google Ads and the changes implemented.
It is a simple equation, an increase in impressions should result in more clicks, but the success of that strategy hinges on achieving a decent conversion rate.
The fear is that the keyword changes implemented by Google would appear to create the perfect environment for generating a noticeable increase in irrelevant traffic if your account is not actively managed and monitored to counteract this scenario.
You could be using up a greater slice of your budget as a result of a much broader interpretation of keywords and if this traffic is not relevant enough to achieve a conversion it is inevitably going to push your average cost higher.
A fundamental problem that every advertiser needs to be aware of is that niche targeting has just got tougher thanks to Google's changes.
You will need to be proactive with your keyword research.
The changes made to keyword targeting will almost certainly see you witness a boost in numbers when it comes to clicks and impressions overall, but that also means you will have to be very proactive in terms of updating negative keyword additions that don't match your specific needs.
If you are going to make the most out of Google's recommendations and tools one of your priorities has to be a frequent cull of negative keywords based on vigilant research and monitoring.
This should prove to be an effective and necessary strategy if you are going to take greater control of Google's changes and use them to your advantage.
Rebranding from Google AdWords to Google Ads has seen some smart new features being introduced, as outlined, but it is not all plain sailing. Despite the fact that search engine marketing has proved to be a reasonable marketing tool to use alongside other strategies it should also be said that it has become increasingly more complex to achieve that goal of driving more traffic to your site.
Unless you have the professional marketing skills and the time to understand and respond to all the changes implemented by Google Ads you will find it is now harder than ever before to devise a search ad that manages to hit the sweet spot.
Not so long ago, even a modest marketing budget applied to an Adwords campaign would probably have yielded enough positive responses to justify your investment comfortably. Fast-forward to 2019 and the landscape is somewhat different and infinitely more challenging as the search space feels more crowded than ever before, which almost certainly means that in order to achieve the same level of success with the rebranded Google Ads your pockets will have to be much deeper to achieve the same results.
What can we learn from this?
Link building via blogger outreach, by comparison, remains a viable marketing strategy and what we can learn from looking at adjustments made by Google Ads is that any business has to adapt to change and respond to new challenges.
It also pays to understand why the approach to keywords is changing.
The suspicion is that voice searches are rapidly becoming the default search option with users asking the likes of Alexa or Siri to find what they are looking for. With that happening, it would seem likely that context will be just as relevant as keywords themselves in the future.
To successfully respond to the challenges and opportunities created by seismic changes such as those introduced by Google Ads often calls for professional marketing assistance, especially if you want to ensure that every bit of your marketing budget is spent as efficiently as possible.